ROSE is a Finalist for Best Metaverse: Extended Reality, Best Industry: Gaming, and Best Design: Art Direction In the 15th Annual Shorty Awards!
You can help us win by voting online EVERYDAY at shortyawards.com/vote from now until April 26th! 
OUR NOMINATIONS
At ROSE we specialize in using augmented reality to help brands engage and delight their customers. We are a New York-based team of technologists, designers, engineers, strategists, thinkers, researchers, and doers. We share a deep-seated belief that the path to unlocking and re-imagining the future lies in applying emerging technologies creatively to critical business needs.
ROSE is so honored that the Shorty's has recognized our creativity and hard work through being selected as a finalist at the 15th annual awards.Our Clash From The Past Mini Games, Mastercard® Immersive Tour Of The Miami Design District, and Bloomingdale's 150th Anniversary AR Catalog were challenging but exciting projects to work on that we are so proud of. We hope you enjoy learning about these projects and would greatly appreciate your vote.
P.S. While our Mastercard Mastercard® Immersive Tour Of The Miami Design District and Bloomingdale's 150th Anniversary AR Catalog are both nominated for the Metaverse: Extended Reality category, you can actually vote for both if you choose to!
Clash From The Past Mini Games –
Industry: Gaming
and
Design: Art Direction
Clash of Clans, one of the world's most popular mobile games turned 10 years old in August 2022. To celebrate #clashiversary, the maker of Clash of Clans, Supercell, and their creative agency, Wieden + Kennedy, created a mockumentary around 40 fictitious years of Clash of Clans.  The goal of the campaign was to envelop the fandom in this fake history and make them believe it was real through never before seen, "re-released" games, created by ROSE, one from each era of game design history.
Over 170 Million players across the globe tapped, punched, ran, and smashed their way to winning back Barbarian's sword from evil goblins, ultimately transporting him back to present-day Clash of Clans. 
For the 1980s, we created an arcade platform called CLASH. Players play as Clash of Clans' Barbarian, smashing through buildings to try and find their stolen sword all while the goblins that stole the sword are trying to stop their progress. 
For the 1990s, we created Clash Dash, a racing game reminiscent of Mario Kart and Crash Team Racing, but Clash of Clans style. Users could play as one of six classic Clash of Clans characters. Players are racing through a Clash of Clans village, trying to catch up to the siege machine containing the goblins that have taken Barbarian's sword. To win back Barbarian's sword, players must win the race. 
For the 2000s, we created a mix between a role-playing and boss battle game, think Elder Scrolls meets Kingdom Hearts, called Clash: Cradle of Darkness. As relayed in the mockumentary, Clash: Cradle of Darkness was a game so bad, it couldn't see the light of day. We created a version of this game, bugs and all, for influencers to play, and released the "never before seen footage" to the public, closing out the story of Barb's return home to present day.
Each game used Clash of Clans scenery, items, and characters but recreated to look like the era it was supposed to have come from. This meant the creation of over 900 net new assets to fully re-create the look from each decade. Additionally, to tie each game together and further the story, a series of cut scenes were also created, also in the style from each decade. 
Bloomingdale's 150th Anniversary AR Catalog –
Best Augmented Reality: Advertising, Media & PR
In honor of their 150th anniversary, Bloomingdales' wanted to create an immersive experience to go along with their catalog of exclusive looks. Using augmented reality, we made it possible for users to see 14 of the looks in their own space, in-store, and alongside the catalog.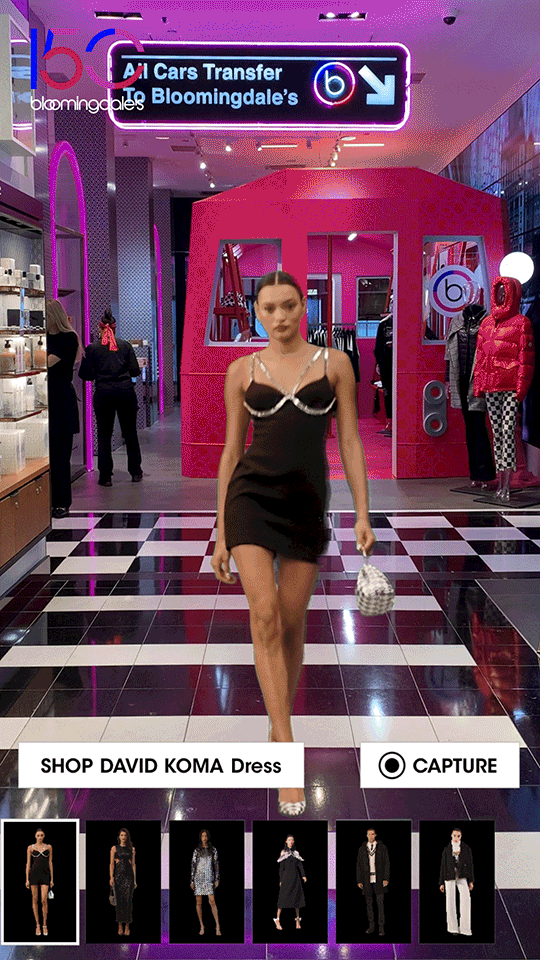 Customers can scan AR enabled looks within the catalog to see how they look and move in real life, not to mention click to purchase inside the experience. This experience has led to a +22% conversion rate to shop and a +38% engagement rate.
Immersive AR Tour of the Miami Design District –
Best Retail & Shopping: Metaverse, Immersive & Virtual
In partnership with the Miami Design District, Mastercard™ has provided cardholders with a #Priceless tour of the area. ROSE created the immersive experience to bring seven key pieces from the district to the user's own space. With this partnership, cardholders are given the exclusive opportunity to go through this immersive view of the Miami Design District's collection.
This experience can be viewed by Mastercard™ cardholders HERE.
Using their mobile device, Mastercard™ cardholders can choose where to start their tour via an AR art installation at the start of the experience. Once a piece is selected, users are transported to the Miami Design District and can experience a 360-view of the selected art pieces. Upon entering each portal, users will be able to learn about each piece through audio and written descriptions. Users are able to walk around these pieces by tapping or walking towards designated hotspots. This experience had an average engagement time of 1 minute and 40 seconds.
Featured works include Interdimensional Portal by Criola, Buckminster Fuller's Fly's Eye Dome, John Baldessari's Fun Mural (Part 1), Wall Drawing #1138 by Sol LeWitt, Virgil Abloh's Dollar a Gallon III, Standing Julian by Urs Fischer, and Jana Euler's Two Brides.