ROSE is Nominated For Best Augmented Reality: Advertising, Media & PR and Best Retail & Shopping: Metaverse, Immersive & Virtual in the 27th Annual Webby Awards!
You can help us win by voting online at vote.webbyawards.com from now until April 20th!
"Nominees like ROSE are setting the standard for innovation and creativity on the Internet," said Claire Graves, President of The Webby Awards. "It is an incredible achievement to be selected among the best from the nearly 14,000 entries we received this year."
OUR NOMINATIONS
At ROSE we specialize in using augmented reality to help brands engage and delight their customers. We are a New York-based team of technologists, designers, engineers, strategists, thinkers, researchers, and doers. We share a deep-seated belief that the path to unlocking and re-imagining the future lies in applying emerging technologies creatively to critical business needs.
ROSE is so honored that the Webby's has recognized our creativity and hard work through two nominations at the 27th annual awards. Both our Bloomingdale's 150th Anniversary AR Catalog and Immersive AR Tour of the Miami Design District were challenging but exciting projects to work on that we are so proud of. We hope you enjoy learning about these projects and would greatly appreciate your vote.
Bloomingdale's 150th Anniversary AR Catalog –
Best Augmented Reality: Advertising, Media & PR
In honor of their 150th anniversary, Bloomingdales' wanted to create an immersive experience to go along with their catalog of exclusive looks. Using augmented reality, we made it possible for users to see 14 of the looks in their own space, in-store, and alongside the catalog.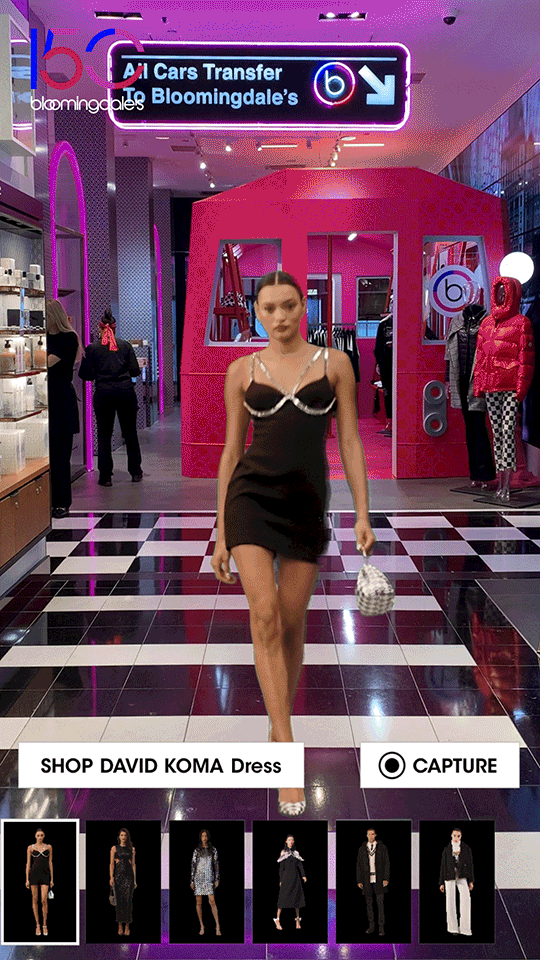 Customers can scan AR enabled looks within the catalog to see how they look and move in real life, not to mention click to purchase inside the experience. This experience has led to a +22% conversion rate to shop and a +38% engagement rate.
Immersive AR Tour of the Miami Design District –
Best Retail & Shopping: Metaverse, Immersive & Virtual
In partnership with the Miami Design District, Mastercard™ has provided cardholders with a #Priceless tour of the area. ROSE created the immersive experience to bring seven key pieces from the district to the user's own space. With this partnership, cardholders are given the exclusive opportunity to go through this immersive view of the Miami Design District's collection.
This experience can be viewed by Mastercard™ cardholders HERE.
Using their mobile device, Mastercard™ cardholders can choose where to start their tour via an AR art installation at the start of the experience. Once a piece is selected, users are transported to the Miami Design District and can experience a 360-view of the selected art pieces. Upon entering each portal, users will be able to learn about each piece through audio and written descriptions. Users are able to walk around these pieces by tapping or walking towards designated hotspots. This experience had an average engagement time of 1 minute and 40 seconds.
Featured works include Interdimensional Portal by Criola, Buckminster Fuller's Fly's Eye Dome, John Baldessari's Fun Mural (Part 1), Wall Drawing #1138 by Sol LeWitt, Virgil Abloh's Dollar a Gallon III, Standing Julian by Urs Fischer, and Jana Euler's Two Brides.
ABOUT THE WEBBY AWARDS
Hailed as the "Internet's highest honor" by The New York Times, The Webby Awards is the leading international awards organization honoring excellence on the Internet, including Websites and Mobile Sites; Video; Advertising, Media and PR; Apps, dApps & Software, Social; Podcasts; Games and Metaverse, Immersive & Virtual. Established in 1996, The Webby Awards received nearly 14,000 entries from all 50 states and over 70 countries worldwide this year.
Winners will be announced on Tuesday, April 25, 2023, and honored in a star-studded show at Cipriani Wall Street. Winners will have an opportunity to deliver one of The Webby Awards' famous 5-Word Speeches. Past 5-Word Speeches include: Steve Wilhite's "It's Pronounced "Jif" not 'Gif'; NASA's "Houston We Have A Webby"; and Drew Barrymore's "Social Media's a Wild Ride."
The Webby Awards are presented by the International Academy of Digital Arts and Sciences (IADAS). IADAS, which nominates and selects, The Webby Award Winners are comprised of Internet industry experts including Questlove, DJ and Producer; Tan France, Fashion Designer, Television Personality & Author; Natalie Guzman, Co-President & CMO, Savage X Fenty; Werner Vogels CTO, Amazon; Roxanne Gay, Host, The Roxanne Gay Agenda; Quinta Brunson, Writer, Director and Actor; Ziwe Fumudoh, Comedian and Writer; Reshma Saujani, Founder, Girls Who Code; LeVar Burton, Actor, Podcaster and TV Host; Andy Slavit, Host, In The Bubble; Takashi Murakami, Artist; Samantha Bee, Comedian; and Tracy Chou, Founder & CEO, Block Party.
Sponsors and Partners of The Webby Awards include WP Engine, Canva, Verizon, Omidyar Network, NAACP, KPMG, Wall Street Journal, Podcast Movement, All Tech is Human, and AIGA.