As we continue to explore the frontiers of technology, one marvel that has profoundly impacted our interaction with the digital world is Augmented Reality (AR). AR has gained immense popularity, particularly in the realm of social media, where AR Social Filters have become a part of our daily lives. But what is an AR Social filter, and how does it work?
THE THREE TYPES OF AUGMENTED REALITY
Augmented Reality (AR)
refers to a technology that overlays digital information or virtual objects onto the real world, enhancing our perception and interaction with our surroundings. AR blurs the line between the physical and digital realms, creating immersive and interactive experiences. There are three primary types of augmented reality: SocialAR, NativeAR, and WebAR. Each type offers distinct features and applications.
SocialAR
Social AR, where our AR Social Filters reside, is the application of AR on social media platforms.
The integration of AR on these platforms
allows users to create and share augmented reality experiences, promoting user engagement and interactivity.
Social AR is designed to be easily accessible and shareable. It typically operates within the social media apps themselves, such as Instagram, Snapchat, or Facebook, eliminating the need for additional applications. Users can apply AR filters in real time, capturing photos or recording videos with augmented elements. They can then share these AR-enhanced creations directly within the social media platform.
One of the key characteristics of SocialAR is its emphasis on user engagement and interactivity. Social AR filters often respond to users' movements, gestures, or facial expressions, creating a dynamic and immersive experience. Users can interact with the augmented elements, such as by tapping on the screen to activate virtual objects or triggering animations through specific actions. Social AR fosters creativity and personal expression, allowing users to customize their content and showcase their unique style.
An AR Social Filter, simply put, is a digital overlay that augments our physical reality, typically used on social media platforms to transform or enhance real-world imagery.
By leveraging AR technology, these filters add a layer of interactive and entertaining elements to users' photos or videos. AR Social Filters can transform users' appearances, add virtual objects or effects to their surroundings, or apply interactive elements to their content.
WebAR
Web AR brings augmented reality experiences directly to web browsers without the need for dedicated applications or downloads. It allows users to access AR content by simply visiting a website, making it highly accessible and convenient. Web AR leverages the capabilities of modern web browsers, enabling users to experience augmented reality on a wide range of devices, including smartphones, tablets, or desktop computers.
NativeAR
NativeAR refers to augmented reality experiences that are built into dedicated applications or software specifically designed for AR interactions. Native AR takes advantage of the advanced capabilities of mobile devices or dedicated AR hardware, offering more complex and immersive AR experiences compared to SocialAR. However, it typically requires users to download and install specific applications, limiting the reach and accessibility compared to SocialAR's integration within popular social media platforms.
THE HISTORY OF AR SOCIAL FILTERS
While Augmented Reality itself has a long history, dating back several decades, the integration of AR into social media platforms took place more recently.
The first significant milestone in the history of AR Social Filters can be attributed to Snapchat, a popular social media platform. In 2015, Snapchat introduced "
Lenses
," which were the earliest form of AR Social filters. These lenses allowed users to apply real-time effects and overlays to their selfies, transforming their appearance with features like animated masks, filters, or 3D objects. This introduction of AR Social Filters on a mainstream social media platform revolutionized the way people interacted with their own images and videos.
Snapchat's success with AR Social Filters inspired other social media platforms to follow suit. Facebook, Instagram, and later TikTok, all integrated AR capabilities into their platforms, enabling users to create and share augmented reality experiences. Each platform developed its own set of filters and effects, providing users with a range of options to enhance their content and engage with their audiences.
Over time, AR Social Filters became an integral part of social media culture. Users eagerly awaited the release of new filters and trends, and AR Social Filters became a means of creative expression, entertainment, and communication. 
HOW DOES IT WORK?
The mechanics of an AR Social Filter are grounded in computer vision and machine learning. The technology recognizes specific features in the real-world image (like a face or background) and overlays it with a digital object or effect. The filter dynamically adjusts with the movements in the video or changes in the image, creating an immersive and interactive experience for users.
Hardware
The hardware components used in AR Social Filters include a camera and a display. The camera serves as the primary hardware element, capturing real-world images or videos that form the background for the AR overlays. The display is responsible for presenting the augmented imagery to the user.  It showcases real-world imagery seamlessly blended with digital objects or effects, creating an immersive AR experience.
The camera and display work together in smartphones, webcams and monitors, and tablets. They enable users to interact with AR Social Filters and bring augmented content into their physical reality.
Software
AR Social Filters leverage a range of software components to deliver captivating augmented reality experiences. These filters are developed using specialized AR development platforms that equip developers with the essential tools and frameworks needed to create immersive AR applications. Within the software ecosystem,
computer vision algorithms
play a vital role by analyzing real-world images or videos, identifying specific features, and facilitating accurate overlay of digital objects. Additionally,
machine learning models
enhance the filters' dynamic adjustment and interaction capabilities, enabling them to respond seamlessly to user actions. Together, these software components work harmoniously to bring AR Social Filters to life, providing users with engaging and interactive experiences in the world of augmented reality.
Meta Spark Studio, Lens Studio, and Effect House are among the top software tools used to create AR Social Filters. They offer a wide range of features, ease of use, and integration with popular social media platforms
Meta Spark Studio
Meta Spark Studio
is a widely recognized AR development platform specifically designed for creating AR experiences on Facebook and Instagram. It provides a user-friendly interface and a comprehensive set of tools and features to build interactive and immersive AR filters. Meta Spark Studio enables developers to leverage various capabilities such as face tracking, gesture recognition, and 3D object integration, allowing for the creation of captivating AR Social Filters.
Lens Studio
Lens Studio
, on the other hand, is an AR development platform developed by Snapchat. It empowers creators to build AR experiences and filters for use within the Snapchat app. Lens Studio offers a range of templates, 3D modeling tools, and scripting capabilities, enabling developers to craft unique and interactive AR filters. With Lens Studio, creators can incorporate face tracking, environment mapping, and other advanced features to enhance the user experience and bring their AR Social Filters to life.
Effect House
Effect House
is a significant software platform in the AR space. It is TikTok's proprietary AR development platform designed for creating AR effects and filters on the TikTok platform. Effect House provides a suite of tools, resources, and templates for creators and developers to build unique and engaging AR experiences. With its extensive library of 3D objects, animations, and effects, creators can design captivating AR filters that enhance TikTok content and engage with the platform's massive user base.
INDUSTRY USE CASES
AR Social Filters find widespread application across various industries, revolutionizing how businesses and individuals engage with augmented reality. These filters have proven to be valuable tools in marketing and advertising.  By integrating AR Social Filters into their strategies, industries are unlocking new avenues for user engagement, enhanced experiences, and innovative approaches to problem-solving.
Fashion and Retail
In fashion and retail, AR filters allow customers to virtually 'try on' products such as clothes, glasses, or makeup before purchasing. This enhances the online shopping experience, increases customer confidence, and potentially boosts sales .Retailers have found that using AR technology can lead to a
94% increase in conversion rates
and a
20% increase in consumer engagement
. 
Outside of try-on's AR Social Filters can also provide the fashion industry fun and engaging way for customers to connect with the brand, such as
Steve Maddenverse Big Head Girls filter
.  The Instagram filters enabled users to see what they would look like as 3D avatars of Normani, Nessa Barrett, Jordan Alexander, Sydney Sweeney, and Justine Skye in Steve Maddens iconic "Big Head Girl' style from the '90s and early '00s. The filter quickly gained traction, accumulating over
675,000 impressions
and more than
17,900 uses
in just seven days.
Consumer Packaged Goods (CPG)
In the Consumer Packed Goods (CPG) sector, AR Social Filters allow companies to enhance their marketing strategies and engage with costumes in innovative ways. By integrating AR technology, brands can create immersive and personalized experiences that educate and inform consumers about their products
An example of this is
Kiehl's Retinol Micro-dose Serum Filter
, which showcases the product in a unique and engaging way. Through the Instagram filter consumers were able to take a quiz that broke down their concerns, and ultimately revealed why the new Micro-dose Retinol Serum was right for them. An AR Instagram filter like this one has a high chance of engagement as
62% of Instagram users gain interest in a brand once they have see it in a story
. Additionally, 
70% of Instagram users watch stories daily and 40% post stories daily.

Food and Beverage
AR Social Filters have transformed the way food and beverage businesses engage with their audience, providing entertaining and valuable experiences. These filters offer a range of possibilities for brands to showcase their products, educate consumers, and create unique interactions.
One notable example is the
Tic Tac Spearmint Jungle Snapchat filter
. This filter transports users into a retro video game jungle environment, where they can "chew" to swing from vine to vine. This immersive filter not only entertains users but also allows them to engage with the brand in a playful and memorable way. and data shows that users are
1.5x more likely to interact with gamified Snapchat AR filters
.
Entertainment
Entertainment industries are also capitalizing on AR Social Filters. From interactive game filters to movie and TV promotions. Studios and streaming platforms create filters that allow users to become characters or participate in interactive experiences related to their favorite content. These filters enhance fan engagement, generate buzz around new releases, and provide a fun and shareable way for users to connect with their favorite entertainment franchises.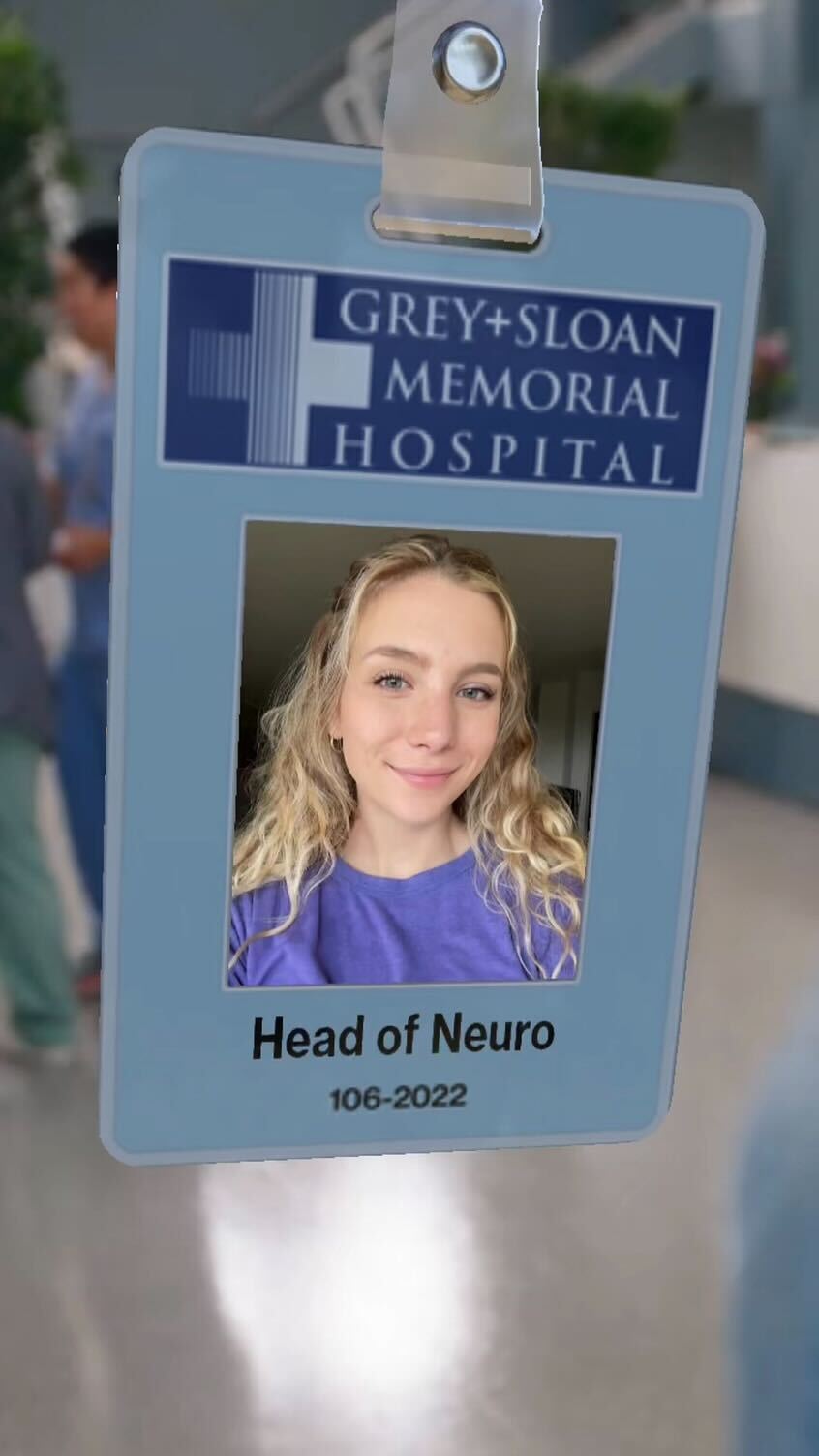 An example is the
Grey's Anatomy Memorial Hospital TikTok filter
. Inspired by the popular medical drama, this filter transports users into the iconic Grey Sloan Memorial Hospital. Users can become a part of the staff with their own ID badge and feel connected to their beloved characters. Tiktok AR filters have grown increasingly important, due to Tiktok's rapid growth, with data showing a
100% user growth rate from 2020 to 2022.
That growth also means that now Tiktok reaches
17.9% of internet users 18+
, and
64% of TikTok users have tried AR filters on the app
.
THE POWER OF AR SOCIAL FILTERS
The beauty of AR Social Filters lies in their versatility. They're not just about adding dog ears to a selfie or changing the color of your eyes. They're powerful tools that can transform industries, enhance user experiences, and bring about a paradigm shift in how we interact with the digital world. 
So, whether you're a consumer enjoying a new filter on your favorite social media app, a business exploring new ways to engage with customers, or a developer pushing the boundaries of what's possible with AR, one thing is certain – AR Social filters are here to stay. They're transforming our digital interactions today and shaping the augmented reality of tomorrow.